written by Linda Werbner
As Llewelyn Davis wryly mused about folk music, it's never old and it's never new. But the Hi-Tone Ramblers, a Boston-based string band, manage to make the 14 chestnuts on their stellar sophomore offering, Bed Bug Blues, sound alternately fresh and modern without losing that old-time charm. The minute the warm, honeyed notes of Little Sam come joyfully hurtling out of the speakers, you know you have found one of those desert island discs.
In addition to its pristine production, memorable arrangements, soaring harmonies, and top-rate picking by this quintet, what makes this such a winning recording is its protean array of styles from every corner of the old, weird America.
There are irresistible toe-tapping reels like Half Irish with breathtakingly bright fiddle work by Cathy Mason, a healthy dollop of country gospel (Sinner You'd Better Get Ready, The Soul of Man Never Dies), a dash of Cajun (Jolie Blonde), and a riot of Kentucky fiddle tunes (Hog-Eyed Man, Can You Dance A Tobacco Hill?). A spine-tingling Roundpeak tune (Chilly Winds) rounds things out. Some standout cuts include Chased Old Satan with Tim Fitzpatrick's winning vocals which are witty and playful without being hammy and Bethany Weiman's cello brings a full and rich undercurrent to every tune in this collection.
Even the packaging is perfect. Just try to resist the winsome and enchanting cover art—a transporting painting by Kim Parkhurst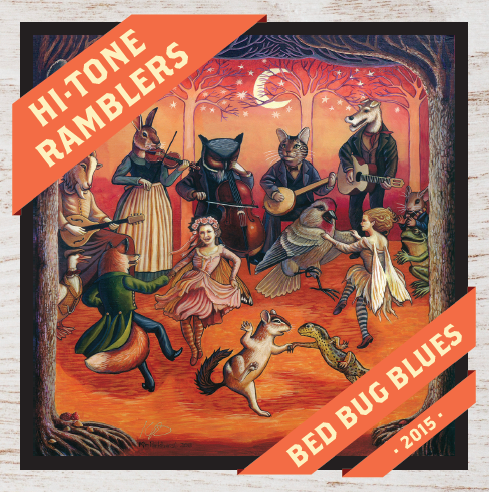 of a moonlit hootenanny of fairies dancing with woodland creatures. Bed Bug Blues is one hootenanny you won't want to miss!